Non-profit organization, provides music and entertainment to hospitals and long-term care facilities in the San Francisco Bay area for patients of all ages.
Project included: Save the Date postcard, invitations and envelopes, event posters, ads, and program booklet. All pieces needed to be branded to the theme which was centered around the headliner, latin jazz classic, Pete Escovedo. 
Water color, pencils, Adobe Photoshop, Adobe Illustrator, Adobe InDesign
CONCEPT #1 - RIVERA INFLUENCE
Incorporate Rivera's style and emphasis on the working Latin community celebrating music. This boy has a smile on his face, with a more festive sombrero, 
drumsticks in his hands, 
and a tapping foot. 
Background will incorporate the Teatro Zinzanni (TZ) Burgundy and Velvet Red rays on the bottom, and golden Spanish Colonial iconic rays and stars in the sky. 
Also the San Francisco skyline with the Coit Tower and TZ silhouette on the left and the Golden Gate on the right.
Client felt too many legal concerns mimicking Rivera's style.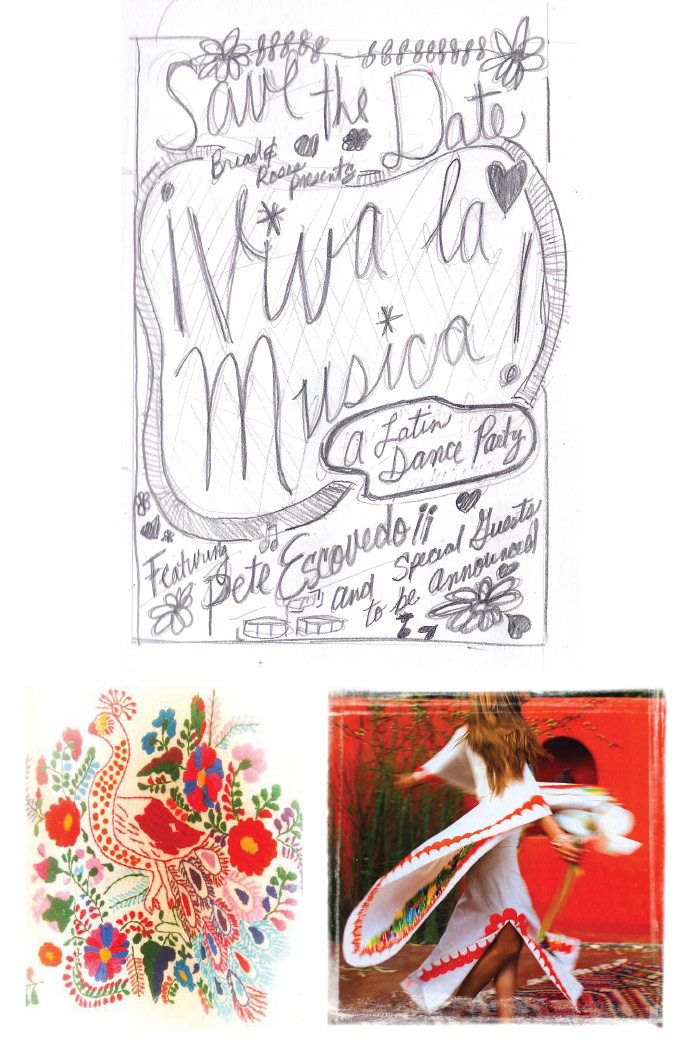 CONCEPT #2 - EMBROIDERY

This Latin folk embroidery inspired style can be achieved with flowery ornamentation throughout all pieces (postcard, invite, program and catalog). Basic drawing with a multitude of festive traditional colors on a white linen or cloth textured background.

Client liked the handmade text elements that were eventually incorporated into final piece.
CONCEPT #3 - WARDROBE CLOSET
Bold reds and greens on crackling painted wood texture background. I envision having more contemporary tattoo style and influences with mutually accommodating hearts, scrolls, flower and flowing text. Free-form style can incorporate numerous elements. The shape of the closet was also incorporated as a natural frame.
Client loved this concept from beginning to end. This became the inspiration for the project.