Client: Moximed Medical
Project Needs
New small knee replacement / implant medical product company needed to rollout their new products coming to market. Consistent brand guidelines as well as FDA and EU regulatory requirements needed to be successfully adhered to.
My Role
Following regulatory requirements and brand guidelines, created original print artwork for cartons and variable printed packaging labeling.
Client: Digital Art Studio Seminars (DASS) 
Project Needs
DASS needed a rebranding for a family of products. The previous design did not work well with packaging needs. A new mark was needed to incorporate a relationship to the primary product, SUPERSAUCE®, that allows for digital art transfers to a wide variety of substrates for artists and photographers. Client had a desire to have a newer vintage or retro look. A representation of cameras and photography was inspiration for the final mark. The original logo had a chemical symbol that represented the "A" for Alchemy in DASS. Because the key ingredients rely heavily on their chemical build-up, the desire to maintain this symbology was important to the client. The new slogan (also developed by CreativeJake) needed to be incorporated. Lastly, the logo needed to have some ability to be represented with different colors for the many different types of papers, transparency films, and chemical products without appearing too "craftsy" or "pastelly".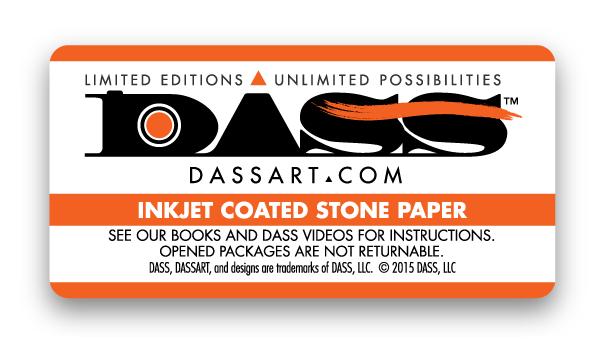 Client: W. L. Gore & Associates, Inc.
Project Needs
This is one of hundreds of Instructions for Use (IFU), product labels, packaging labels, and carton labels needed for international medical products manufacturer created since 2005. Client must be compliant with FDA and EU medical requirements for packaging and instruction materials. Over 30 different products with hundreds of various of dimension and indications needs. 
My Role
As designer and technical illustrator, assisted with creating product and deployment illustrations for packaging and IFUs. Assisted with page layout of all languages provided for IFU and packaging needs. Created templates for variable printing needs for production team. Provided initial layout, editing, and final electronic files for print. Worked closely with art director, translators, and print production teams.
Client: RODO Medical, Inc.
Project Needs
Client needed assistance with creating multilingual packaging labels for medical product. 
Client: Uncle Skippy's Gourmet Barbecue Sauce
Project Needs
Client makes small batch barbecue sauces. New logo and labeling needed for glass jars.